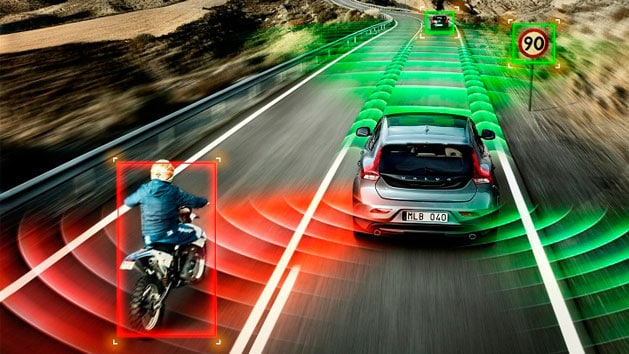 If you've been looking eagerly forward to owning a self-driving car, your wait has gotten a bit shorter. That's because Volvo is planning to use real customers to test its fleet of self-driving XC90 SUVs in Sweden in 2017. The event is being called, "the most ambitious autonomous tech trial in history"
Volvo's "Drive Me" initiative will deploy 100 self-driving cars on the roads near its headquarters in suburban Gothenburg, Sweden. Although it has already tested several self-driving prototypes equipped with its autopilot technology, Volvo's research and development chief Peter Mertens describes this initiative as the "world's first large-scale pilot" of its kind.
What Actually Qualifies As a Self-Driving Car?
According to the U.S. Department of Transportation, there are five grades of self-driving cars, ranging from Level Zero to Level 4. Most late-model cars have Level 1 or Level 2 capabilities. That means they have technology that includes electronic stability control (Level 1) and adaptive cruise control with active steering to help the car stay between the lane markings (Level 2). The car Volvo will test is in the Level 3 grade. Level 4 cars are those that can drive without anyone inside.
How Will Volvo's Self-Driving XC90 SUV Work?
The self-driving Volvo XC90 is equipped with a "production-viable autonomous driving system" that features an array of 360-degree cameras, radars, and sensors. It has a dedicated windshield camera that reads traffic signs as well as a camera that identifies road debris. To navigate, the car relies on a sophisticated GPS and 3-D mapping system that enables the car to maneuver automatically without driver supervision.
Even with all of that technology, a driver is still necessary. "We require the driver to be in the car, the driver to be in the seat, the driver to be sober, et cetera" said technical specialist Erik Coelingh. "But within this test, our ambition is to allow the driver to do something else. So when we do the technology design of the car, we do not assume that the driver can take over just immediately"
?
Volvo Self-Driving Test Fleets Are Coming to America Soon
The fleet test to be conducted in Sweden in 2017 will cover nearly 32 miles of public roads. To ensure safety, Swedish authorities will block oncoming traffic, pedestrians, and cyclists from the roads. The route will be prescribed, and when the car reaches the end, the car will alert the driver to take over.
In addition, in the event of a systems failure, the car will signal the driver to take the wheel. However, Volvo has built is overlapping backups that include secondary braking, steering, and camera systems to increase safety. If the car signals the driver to take over but the driver doesn't respond, the car will find a safe place to stop on its own.
Although the timetable is uncertain, Volvo will conduct a similar test in America. "If we are successful in Gothenburg within this limited scope, we will of course grow the scope" said Coelingh. "There are many people in the U.S. that could really benefit from a self-driving car, so that's on the plan. But we do not know when"
Volvo Is Bringing the Future to You
Volvo has an ambitious and revolutionary goal of zero deaths or serious injuries in a new Volvo by 2020. The introduction of the self-driving XC90 is an important step towards that goal. In fact, the Insurance Institute for Highway Safety has already credited older versions of this car with zero driver deaths from 2009 to 2012. To get a sample of Volvo's current safety technology, visit us here at Volvo of Bonita Springs to take a test drive.