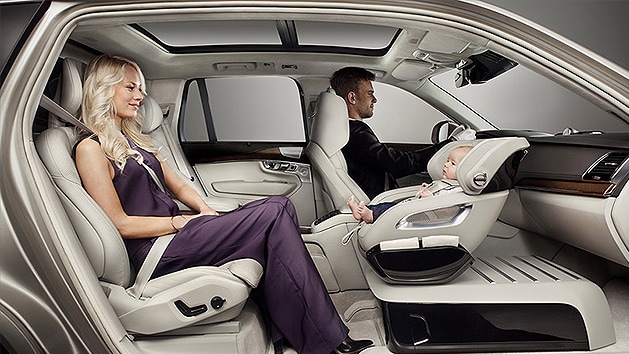 Volvo Adds a Built In Swivel Baby Seat
Volvo has always been recognized for their dedication to safety and protecting your family. Whether you have a chauffeur to drive you and for your family or you are the chauffeur, getting an infant child in and out of a car seat has always been a challenge. Always one to rise to the challenge, Volvo's research and development has come up with the perfect solution to this age old problem.
Make Room for Baby
In the new 2016 Volvo XC90 the front passenger seat can be removed and replaced by a rear-facing baby seat that is designed to swivel. This option is offered in the Excellence trim level edition which is actually a four seat version of the seven passenger design that not only offers a built in car seat, but also more overall legroom.
The idea of removing the front passenger seat might seem a bit absurd, and rest assured it certainly does look unusual, but when you have kids the idea of having direct access to a rear facing baby seat certainly has appeal. In essence this concept came from the XC90 Lounge Console concept vehicle introduced in early 2015. This version replaces the front passenger seat with a custom console featuring a storage compartment or ottoman that can also be used as a work station or surface for your laptop.
Why a Swiveling Baby Seat?
There are a number of reasons behind this new concept from Volvo, a company who has always been dedicated to protecting your family. The intention is for Volvo to do everything possible to reduce and or eliminate all crash-related fatalities in its vehicles by the year 2020. Along with the swiveling baby seat, Volvo is also working on a number of additional safety systems including autonomous driving.
This system is expected to see testing with real Volvo customers as soon as 2017. Volvo has undertaken years of research that shows children of any age should have access to safety seating to meet their needs, size, and age. This concept also includes the addition of custom booster cushions that can be built into many of the company's vehicles in the future.
According to this research all children through ages 3 to 4 years should be travelling in rear-facing position to ensure maximum safety in the event of a frontal impact crash. This is because up until this age children simply do not have the muscular strength to support a head that is disproportionately large and weight in comparison to the rest of their body.
According to Volvo Chief Designer of Interiors, Tisha Johnson "Being able to maintain eye contact with your child from the rear seat... would go a long way towards making life easier for parents taking their small child on a trip. Such alternative seating arrangements will become increasingly important as we move towards autonomous vehicles."
She went on to say, "We started by asking ourselves if we could make life easier for parents and safer for their children when it comes to the child seat experience. We focused on three key benefits -- making it easier to get the child into and out of the child seat from an ergonomic and comfort perspective, providing the child with a safe rearward facing seating position that enables it to keep eye-contact with either the driver or the rear passenger and of course including enough storage for those vital child accessories, such as diapers, bottles, wipes, and so on."
While the idea of a built-in car seat is still in concept phase, we could soon see it as a standard part of the XC90 option package in the very near future as Volvo continues to work towards the goal of zero fatalities by 2020.
Contact Volvo of Bonita Springs to test drive any of our new 2015 vehicles or to learn more about the incredible safety features that come standard with Volvo.