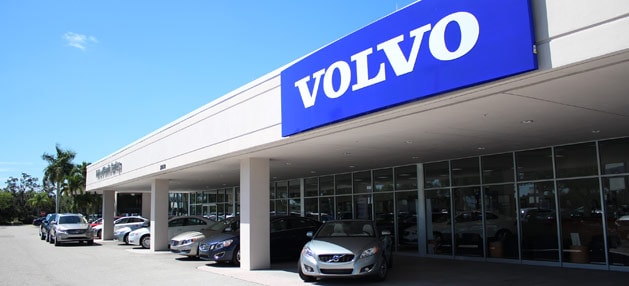 Getting behind the wheel of a Volvo is a goal for many drivers, but a new vehicle isn't always the right buy for everyone. With a pre-owned Volvo, you can still look forward to the same reliability, affordability, and benefits that you'd get from a new vehicle. Discover how the award-winning Volvo Certified Pre-Owned program can help you find a great ride with peace of mind included.
Comprehensive Inspection

The Volvo Certified Pre-Owned program starts with a comprehensive inspection. Before receiving certification, all vehicles must pass a 130-point test to confirm that all parts and components are in good working order. Volvo checks exterior panels, lights, grilles, the frame, seats, windows, the sunroof, the engine, the transmission, the steering, and much more. In line with its impressive safety record, the automaker pays close attention to safety features like airbags, seatbelts, brakes, mirrors, and exterior lights. Volvo's expert technicians then repair any necessary interior and exterior parts, along with any powertrain components.
Volvo also puts each vehicle through a road test to confirm that each vehicle runs smoothly and checks the tire tread depth in 12 different places. Models must have less than 80,000 miles in order to qualify for the program. All of this rigorous testing verifies that whether you opt for an S60 or another model, it will be a worry-free purchase that helps you sleep at night and wakes you up with its superior drivability.
Vehicle History Report
All Certified Pre-Owned models come with a CARFAX Vehicle History Report. This extensive report covers everything from ownership history and title history to accident history and detailed history. With this report, you can learn about ownership type and location, flood damage history, and estimated annual mileage. You'll also discover information about structural damage, airbag deployments, reported accidents, and manufacturer recalls. The report also includes information about the vehicle's original warranty, as well as detailed information about the vehicle's maintenance and service history.
Along with a Vehicle History Report, all Certified Pre-Owned vehicles include a CARFAX Buyback Guarantee. This helps to protect you from purchasing a vehicle that has experienced an incident reported to the DMV. It also ensures that CARFAX will buy back your vehicle in the event that it has a Branded Title after the Vehicle History Report indicated that it did not.
Extensive Warranty

Whether you opt for a Volvo XC60 or another Certified Pre-Owned vehicle, you'll get seven years of good luck. All vehicles in this program come with a seven-year, 100,000-mile warranty calculated form the vehicle's original in-service date and zero miles. The warranty covers either replacement or repair of components in several systems, including transmission, engine, steering, brakes, electrical, suspension, drive axle, and air conditioning. Under warranty, you'll have a $0 deductible for all relevant maintenance and service visits. If you eventually sell or give away the vehicle, the warranty will automatically transfer to the next owner at no additional cost.
Factory Scheduled Maintenance
When you purchase a Certified Pre-Owned Volvo, you'll want to continue to receive top-notch service throughout the lifetime of the warranty. In order to keep your vehicle running in optimal condition, the automaker recommends completing Factory Scheduled Maintenance. Depending on the age of your vehicle, it might include standard maintenance coverage that's carried over from the original warranty. If it's no longer under the original warranty, however, you can purchase additional maintenance coverage from your retailer.
Volvo's Factory Scheduled Maintenance plans cover vehicles up to the 100,000-mile mark. The plans follow standard maintenance schedules determined by the automaker, and drivers can use them at any authorized retailer. Like the warranty, Factory Scheduled Maintenance coverage transfers to the next owner at no additional cost.
Volvo On Call
While your Certified Pre-Owned vehicle is under warranty, you'll also benefit from Volvo On Call, which includes helpful services ranging from roadside assistance to trip interruption benefits. If your vehicle breaks down, take advantage of Volvo's emergency roadside assistance and towing service any time of day and every day of the year. If your vehicle is stolen, Volvo helps with its recovery by providing a $5,000 reward in exchange for details leading to the arrest and conviction of those connected with the theft.
You can also rely on Volvo On Call for maps of the United States and the rest of North America, as well as scenic routes and major destinations across the continent. If you're more than 150 miles away from home and experience a breakdown, Volvo On Call will cover up to $500 worth of expenses related to accommodations, meals, and car rentals in order to help you get on your way.
SiriusXM Subscription

If your Certified Pre-Owned Volvo includes satellite radio, you'll receive an additional benefit. The automaker offers a three-month subscription to the Sirius All Access package, which includes more than 150 channels of programming. You'll get an impressive variety of music channels, entertainment and talk radio you won't hear anywhere else, live sports, international news, and kid-centric programming. Though the complimentary subscription from Volvo only lasts for three months, you'll have the option to continue coverage once it expires.
Vehicle Locator
Volvo's Certified Pre-Owned program has rigorous eligibility requirements, but with the automaker's legendary engineering and safety record, it should come as no surprise that many vehicles meet or exceed the necessary qualifications. In fact, when you use the Volvo Vehicle Locator tool, you'll find hundreds of vehicles across the nation.
To use the tool, simply enter your zip code, price range, preferred mileage, and additional features like all-wheel drive and navigation systems. If you'd prefer to look for more features, use the tool's advance search to find vehicles with trailer hitches, electronic climate control, power moonroofs, heated front seats, and xenon headlamps.
Once you've selected your criteria, peruse the results to find the right pre-owned vehicle for you. Whether you're searching for a 2014 XC60, a C70 convertible, or a roomy XC90, the Volvo Vehicle Locator tool will point you in the right direction.
Award-Winning Benefits

Virtually everyone agrees that the Volvo Certified Pre-Owned program offers exceptional benefits. For the past eight years, IntelliChoice has ranked Volvo's program first in the premium segment. If you're concerned that this success is short-lived, rest easy. IntelliChoice has ranked the automaker's program in its top three slots for the past 15 years, which means it's truly at the top of its class.
Since IntelliChoice provides the auto industry's only comparison of Certified Pre-Owned programs, this is an award you can rely on. The extensive comparison looks at nine criteria identified by drivers as aspects that they consider critical to their vehicle purchasing process. Criteria include Title Verification, Certification Inspection Process, Roadside Assistance, Extended Manufacturer Warranties, Program and Dealer Compliance, Special Financing, Return and Exchange Policies, and Used Cost of Ownership.
While Volvo enjoys high ranks in all categories, some aspects stand out in comparison to other Certified Pre-Owned programs. All Certified Pre-Owned Volvo vehicles come with the automaker's best-in-class warranty. The warranty and all factory-scheduled maintenance are fully transferable to the vehicle's next owner, making this program the gift that keeps on giving.
Whether you're looking for a sedan, an SUV, or something in between, now is a great time to drive a vehicle in Volvo's Certified Pre-Owned program. Contact your Bonita Springs Volvo dealer to test drive a certified pre-owned vehicle and get peace of mind included.