Volvo recently announced the integration of Skype for Business into the already impressive array of features that are available for its new 90 series. The collaboration between the car maker and the leading productivity app from tech giant, Microsoft, is the first such groundbreaking partnership in the industry. Currently, Skype for Business is used by millions of people across the globe to work with colleagues and clients around the world.
Volvo and Skype for Business: Seamless Mobile Productivity
According to the Vice President of Volvo Car Group's Consumer Connectivity Services, Anders Tylman-Mikiewicz, the integration of Skype for Business into the features of the manufacturer's 90 Series is an acknowledgment of the mobile nature of global business today. With so many conference calls taking place while business principals are in their vehicles, eliminating the roadblocks that stand in the way of communication and productivity is the impetus behind the inclusion of Skype for Business.
Volvo Brings Productivity to a New Level
The integration of Skype for Business eliminates the embarrassing and unprofessional incidents that often mar business calls that are made on the road. A forgotten pin code or a dropped phone are no longer worries that owners of the 90 Series Volvo have to be concerned with. Instead, a large display that is centrally located is populated with the details of upcoming meetings. Joining a particular meeting is as simple as finding the participant details on the display and using a one-finger click to join in.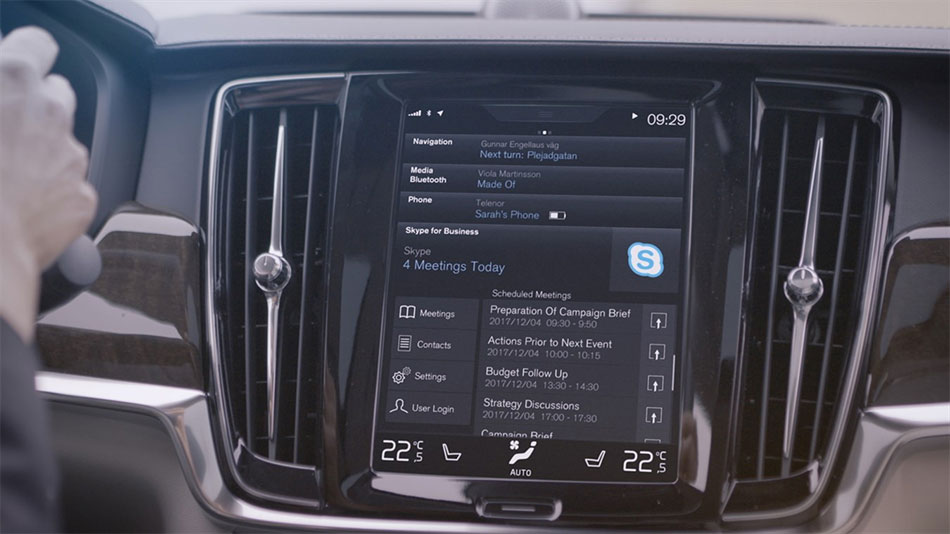 Volvo Leads the Forefront of Connectivity
Volvo, always a leader in premium services and features for the owners of its vehicles, is leading the way in providing the type of in-car productivity tools that are in demand today. While still in its infancy, the mobile business movement is prompting people to spend more time outside their offices even as they continue to conduct business as usual. Having the autonomous tools that support such developments are crucial to maintaining the global connections that make up the bulk of the business world of today.
Skype for Business: The Cornerstone of Customer Service for Volvo Owners
Volvo Cars has long been focused on ensuring that the lives of their owners are made as easy and as safe as possible. The integration of technology like Skype for Business in its vehicles is supported by other Microsoft products, such as Cortana. The company's intelligent personal assistant is designed to add contextual insight and seamless voice recognition to predict and support the needs of Volvo owners.
The news of the inclusion of Skype for Business in Volvo's new 90 Series is the latest milestone for Volvo. The car maker has been working tirelessly for decades to ensure that consumers can take advantage of the latest technology to communicate effectively while being mobile.